5 Reasons to NOT Run VBS (Holiday Club) at Your Church This Summer
So. Easter has been celebrated. And it's a long way 'til Christmas. It's time for churches everywhere to put their feet up and enjoy a few months of relative quiet. Unless, of course, you look at the calendar and note the great expanse known as the summer break looming. If you do, you might just find yourself asking a big question: Do I run a VBS this year?
Rachel Noyce
5 minute read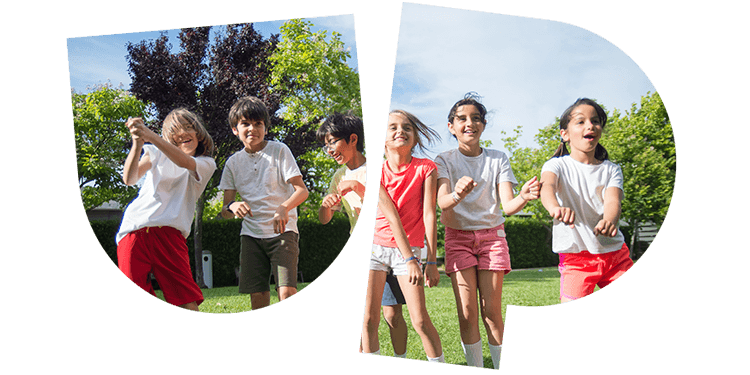 You know that it will take a lot of time and effort. There will be planning to do. Volunteers to recruit. Publicity to arrange. Bookings to take. Is it something you really want to take on?
Well, here at RaiseUpFaith, we've got the answer. Don't. Don't do it. Don't even think about it. And here are our compelling reasons why not.
VBS programs are very expensive and you have a limited budget. There is no way it would stretch to finding a really great VBS program.
After all, a great VBS program will include 5 days' worth of content: an exciting opening program, tons of fab activities to amuse and inspire the kids, songs and videos and awesome Bible teaching. Not to mention all the extras, like publicity material for social media, leader guides and bonus take-home materials.
Except... it looks like Campfire VBS from One Story contains ALL of this – but is absolutely FREE to anyone with a RaiseUpFaith Free Forever account (which, as the name suggests, is absolutely FREE).
OK. So it's not too expensive after all. But there are plenty of other reasons not to run a VBS.
This will take some big commitment from your church. Time. Effort. Resources. Is there really much of a case for running it? Is it worth putting all this work into a whole week... just for kids?
I mean – sure, you could argue that Jesus would probably think so. After all, he was the ultimate champion of children's ministry. When the disciples told people not to bother Jesus and waste his time by bringing their kids to him, he had some choice words for them and reminded them how important and special children were to him (see Mark 10:13-16).
And then there's that inspirational verse in Proverbs about '[starting] children off on the way they should go, and even when they are old they will not turn from it' (Proverbs 22:6, NIV). Most people would agree with the wisdom of this. After all, there are all kinds of things that you learnt when you were young that you can remember even now – things that have stuck with you your whole life. If that's the case, a week of dedicated children's ministry would be very much worth the effort.
OK. You've got us! Maybe VBS does provide a fantastic opportunity to show kids the love of God and sow seeds of the gospel. But still – can anyone say for sure what they will take away from their time at VBS? Who can know whether THIS SONG will come back to them in years to come, to remind them of how much Jesus loves them and his invitation to live for him?
Alright then. We'll admit it – this song is pretty catchy and will probably stay with everyone a loooong time. But we still have plenty of other reasons to give up on the idea of a VBS!
A VBS won't run itself! You need, like, a gazillion volunteers to help you: people to set up and run the different activity areas, small group leaders, a tech team... and that's the absolute minimum! Who on earth is there to ask?
Apart from, say, teenagers who are on summer break themselves. Actually, when you think about it, they might make pretty good small group leaders. They relate really well to the kids attending. And it's a great opportunity for them to step into a leadership role. Win win.
And then there are the retirees within church. They have loads of experience and a bit more flexibility with their time. You could probably think of a few right now who would jump at the chance to bless some kids and teach them about Jesus. And the kids seem to really love having 'grandparent' figures around for the week. They might be a good shout!
Hm. Maybe there are all sorts of amazing people around church who are more willing to help than we're willing to ask. But don't let that persuade you!
Is anybody really looking for kids' activities during the (very long) summer break? Especially ones that are easily accessible, affordable, stimulating, fun, and with lots of other children so their own kids can make friends and the like?
Oh... wait.
With that in mind, then, it's clearly going to be tough running a VBS because everyone is gonna want to come. And when we say everyone, we mean everyone! This is precisely the kind of thing that is going to appeal to families in your community who may not go to church regularly.
Admittedly – you could see that as an opportunity. A chance to extend the love of God not only to the children who come but their families too. A chance to welcome those who, at any other time, might find walking into a church building a little overwhelming or intimidating. A chance to serve others like Jesus served. A chance to be a blessing and to shine the light of God's love in your neighbourhood.
In fact, when you put it that way, it might just be one of the single biggest missional opportunities in the church calendar...
OK. It looks like we've run out of reasons to NOT run a VBS.
In fact, we've changed our mind. You should definitely run one.
Sign up for your FREE FOREVER account with RaiseUpFaith.com and download Campfire VBS today!
Sign up for your Free Forever account today!
Get instant access to everything you need, and more than you could ever imagine, for every ministry moment. Thousands of lessons, games, activities, crafts, and worship media assets are ready for you!
Create Free Forever Account
Free Resources & Downloads