Mission and Values
What does it mean for an organization, a church, a brand to live into its mission and values? Why do we think it matters that you know who we are, where we say we are going, and what matters to us?
Christie Penner Worden
5 minute read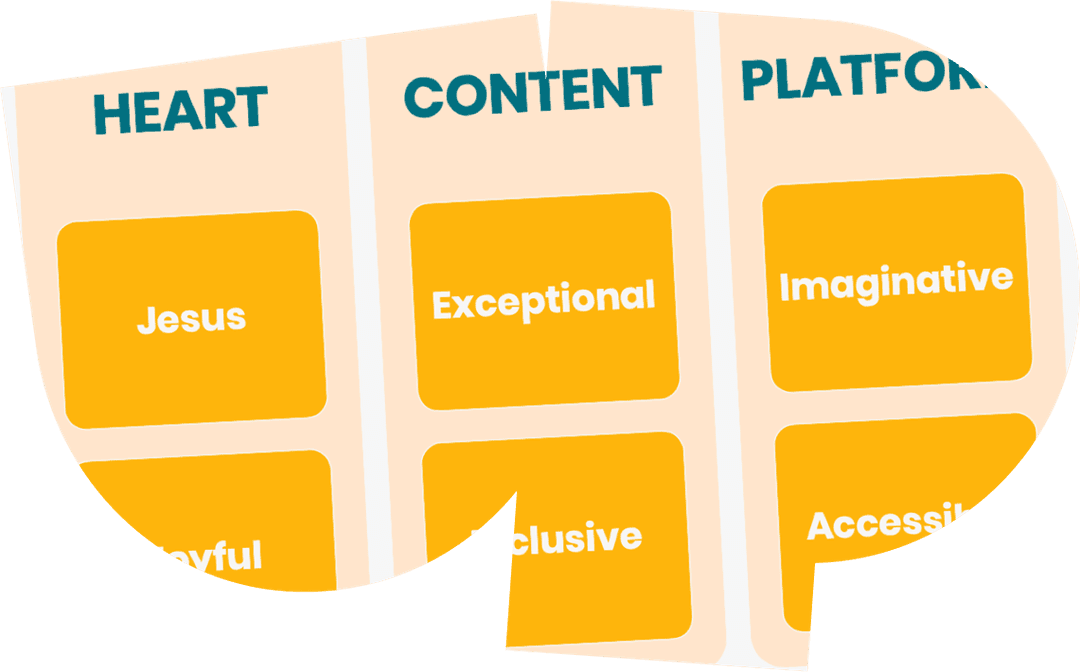 We believe that a relationship with you is more important than for you to have an encounter with our product. We are hoping that, by sharing who we say we are with you, we will begin a relationship that equips your ministry, but moreover inspires you and the generations you serve.
So grab a coffee (or tea, or one of those fancy frozen drinks with whipped cream on top!) and allow us to introduce ourselves. Consider this more of a play date than a coffee date, though. We love to have fun and like to think of our platform as more of a digital playground than a library (not that libraries aren't fun, ahem).
At RaiseUpFaith, our vision is to inspire and awaken wonder across the generations. This passion is borne out of our belief that childlike faith empowers and ignites awe and imagination for who God is, who we are because of Jesus, and who we get to be together by the power of the Holy Spirit. Why? Because '[We] have no greater joy than to hear that my [our] children are living by the truth' (3 John 4).
We hope to live into that vision by inspiring and equipping generations to live Jesus-centered, joy-filled lives. We do this by creating and gathering exceptional and accessible curriculums and content all together in one imaginative and inclusive place. This mission is upheld by three pillars which are each defined by our core values:
At the heart of everything we do, we want to be centered on Jesus and present the gospel in a joyful way. We believe that God's story is one story that points to Jesus and our invitation into relationship with him. The Bible has a lot to say about joy, but our joy comes from knowing kids around the world are walking in the truth. And we know they do that because of the work you do as children's ministry leaders.
RaiseUpFaith is an online experience that hosts more than 10,000 pieces of content. We really value exceptional content because we believe it's worth it, and the gospel is worth it! We also think you're worth it, too. Kids deserve our best, and if we want them to know the amazing grace and love and goodness and kindness of God, we want to present it in amazing ways. Being inclusive matters to us for two reasons: we want to include a wide variety of content so that you can choose what works best for your context and for the kids you know and love. We also believe that delivering this content digitally stands the best chance to have the greatest reach for the Kingdom. Every child deserves to belong and find their place in God's story, so we work hard to make sure kids can see themselves in the content we create and curate.
But it's not just for the kids! Our content includes you, too. Every week we deliver articles and free resources to your inbox to help you grow in your leadership, discipleship, and confidence as a leader of kids and follower of Jesus.
Finally, let's talk about the platform. Because we are a digital service that allows you to interact with multiple (more than 18!) curriculums in multiple ways (even uploading your own content!) with multiple people (have you checked our TeamBuilder?!), we think this online jungle gym is not only an imaginative tool, but also a widely accessible one. This one-of-a-kind curriculum experience allows you to imagine the lesson you want to teach to the kids you know well, and mix-and-match different elements from all the curriculums to create your own unique lesson, series, or even scope and sequence! Are you more of a sandbox, less of a monkey bars, kind of planner? We get it. Try our plug-and-play stream-directly scopes and sequences, share a link to your selection with your team, and you're good to go!
But we know that not every lesson fits your ministry, so we've used our imaginations to get you started. Try the search function for a particular passage of Scripture or theme; upload your own video that you made for the kids; invite a team member to do all the lesson planning in a shared space! We think you know best for your ministry. We just think you probably have a lot of tabs open between Sundays. When it comes to lesson prep, learning, and leading on Sundays, Wednesdays, or every day, we are the only tab you need open.
So how are we doing? We would love to know how our mission is serving yours, and how we might partner with you. Do you share some of the same core values? At the heart of every piece of content on our platform is our desire to live into these values for the sake of the Kingdom, and our desire to radically welcome kids into it all across the world.
Sign up for your Free Forever account today!
Get instant access to everything you need, and more than you could ever imagine, for every ministry moment. Thousands of lessons, games, activities, crafts, and worship media assets are ready for you!
Create Free Forever Account
Free Resources & Downloads