10 Fall Fest Games
Fall season is here, which means Fall Fest season is here too. Here are 10 Fall Fest games/activities kids love! Happy Fall, Y'all!
Brittany Nelson
3 minute read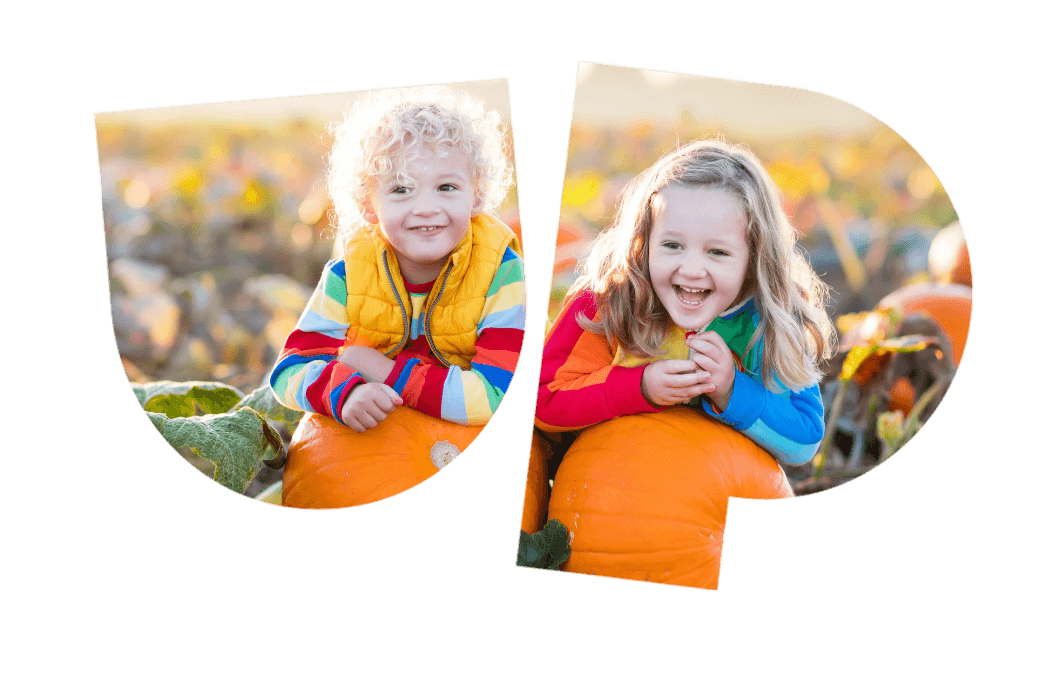 1. Pumpkin Ring Toss
Write points on 3-5 large pumpkins, set them up, then invite kids to toss a hula hoop around the pumpkins, earning the most points possible!
2. Pumpkin Twister
A fall twist on a classic game (see what I did there?)! Use this fun, free printable to create your own pumpkin twister game board.
3. Pumpkin Decoration Station
Provide a small pumpkin for each child, then give them a little paint or some fun stickers and let their imaginations run wild!
4. Pumpkin Pie Play Dough
Let kids play with this fall-scented play dough as long as they want, then send them home with the recipe so they can recreate it at home!
5. Donut Tree
What kid doesn't love eating donuts? In this game, hang donuts from string in a tree, and see how fast kids can eat a donut without using their hands! Check it out
6. Candy Memory Match
Create your own memory match game using fun size candy wrappers (or use this free printable)! Glue two identical wrappers to cardstock, then laminate for durability and repeat with at least 9 different kinds of candy. Use multiple colors of cardstock to create more than one set! Play by laying all the cards out face down, then have kids choose two cards at a time. If the cards match, they get to keep them! If not, turn them over and it's the next player's turn.
7. Spider Races
Using large straws and spider rings, kids race to see who can blow their spider across the finish line first!
8. Pin the Spider on the Web
Just like pin-the-tail on the donkey, but with a fall feel! Tape a spider web on the wall. Children will be blindfolded, spun 3 times, and will try to place a spider on the web. (Printable of this game included in the Not So Spooky Lesson!)
9. Spider Web Walk
Tape a spider web shape on the floor, or spray paint one on the ground. Place small spider cut-outs and a glowstick on the web. Kids must stay on the web and not fall off, while picking up each spider. When they have picked up all the spiders, they can go pick up the glowstick. Once they bring the glowstick back to the person who is leading the game (still without falling off the web) they win!
10. Leaf Rubbings
Collect and dry some large fall leaves.

Provide paper and crayons for kids to create rubbings with the leaves for a cool fall craft!

Lay the paper on top of the leaf then, using the side of the crayon, gently rub the paper until the imprint of the leaf shows through.
Pro tip: Lay the leaf upside down so the veins are facing up (this gives you more definition when doing the rubbings).
Brittany Nelson is a former children's pastor and the creator of DeeperKidMin.com, an online hub of downloadable resources made FOR children's ministry leaders BY children's ministry leaders.
She works to support children's ministry leaders around the world by sharing resources and encouragement that grow kids deeper in their faith. Her other adventures include being a mom to the 2 sweetest little girls, reading as many books as she can, volunteering in children's and youth ministry, and drinking lots of herbal tea. She one day hopes to run the Disney Princess Half Marathon dressed as her favorite princess, Belle.
Sign up for your Free Forever account today!
Get instant access to everything you need, and more than you could ever imagine, for every ministry moment. Thousands of lessons, games, activities, crafts, and worship media assets are ready for you!
Create Free Forever Account
Free Resources & Downloads